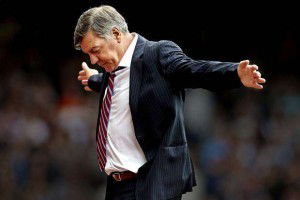 As Sam Allardyce approaches his final swan song at West Ham he seems to have lost his grip reality as the penny finally drops that he will be out of a job in days.
His ego seems to have taken over from any remaining self respect he had as he looks to further anger West Ham fans.
We know he thinks we are mostly deluded, as back in 2012 he told a press conference "There has never been a 'West Ham way' shown to me, not by anybody that's worked with West Ham who I have inherited, I've spoken to them all and none of them can tell me or define what the West Ham way is. So it is a bit of a delusion."
His latest briefing to the media further anger fans after he told Sky Sports that "it's still been an outstanding season and for me an outstanding three years back in the Premier League. I've only had to worry about relegation for about six weeks in three seasons."
This has caused a back lash on social media with many fans suggesting he is the one who is delusional.
Sometimes Sam it is better not to say anything at all, have some dignity by keeping silent until your fate is sealed.