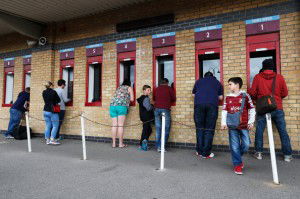 Over 50,000 West Ham 2016/2017 season ticket holders at the London Stadium received an unexpected email today thanking them for their recent booking.
Dear  xxxxxx
Customer No: xxxxxxx
Thank you for your recent booking from West Ham United. Please find your
order details below:
Booking Ref:
Seated Client: xxxxx
Membership:     Season Ticket Holder 2016/17
Total Cost: GBP 0.00
A source close to the ticket office apologised and explained that the Email was sent out my mistake by Hammers ticketing partner Ticket Master during an email activation process ahead of the new season.
Our source told us "As part of the new season set up TicketMaster are activating email accounts, apologies for any confusion this has caused.  I will liaise with them directly about this unplanned correspondence."
Earlier today West Ham Vice Chairman, Karren Brady confirmed season ticket holders would received their access cards and welcome packs next week. Baroness Brady of Knightsbridge tweeted "Next week your access card and the welcome pack will arrive don't worry you'll get it in plenty of time for 1st game"