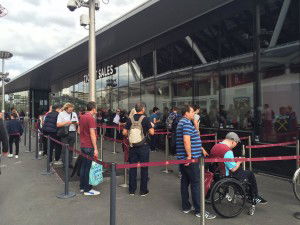 West Ham have raised the cost of new season tickets for the coming season. Although 47,000 season ticket holders had their ticket prices frozen, 5,000 new season tickets at the London Stadium must pay an increased price range.
Prices have risen above the rate of inflation seeing between a 5% and 6% added on to existing adult season tickets.
Under 16 prices have seen a massive increase possibly in an effort to reduce abuse and non-attendance which saw many empty seats.
Band 1 Under 16's will now pay £300 an increase of over 200%, Band 2 kids will pay £250 an increase of over 150% while band 3 will pay £200 an increase of over 100% on existing season ticket holders.
Band 4 and 5 Under 16's remain at £99!
There are said to be over 55,000 on the season ticket waiting list with under 5,000 getting a chance to buy one.
The club expects one in three to take up the offer despite the price rise.
2017/18 new Season Ticket prices:
Season Ticket Prices
Adult
O65s & U21s
U16s
Disabled Adult
Disabled Concession
1966
£1,155
£1,155
£1,155
£1,155
£1,155
Band 1
£945
£475
£300
£475
£300
Band 2
£840
£420
£250
£420
£250
Band 3
£630
£315
£200
£315
£200
Band 4
£525
£265
£99
£265
£175
Band 5
£289
£145
£99
£145
£145