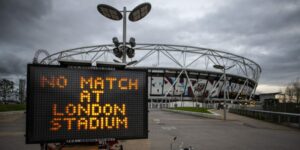 With Premier League games increasingly likely to be played behind close doors the question of season ticket holders being refunded or compensated is being asked by some.
On average West Ham receive £23.5m of season tickets income each year at the London Stadium making each of the 19 home games worth £1,236,842 if split equally.
As there are five home games remaining at the London Stadium this season that could total £6,184,210 in refunds.
It is more likely that the club would pro-rata the refunds with just one game a Category A against Chelsea and the rest all Category B games against Wolves, Burnley, Aston Villa and  Watford.  This could reduce the refund calculation to around the £5m mark.
With the club seriously struggling for cash flow presently the season ticket refund could be offered as a future discount on season tickets purchases possibly over two seasons to reduce the financial impact on the club coffers.
Claret and Hugh understand no final decision has been taken by the club at present until it is known whether games will be played behind closed doors or not.