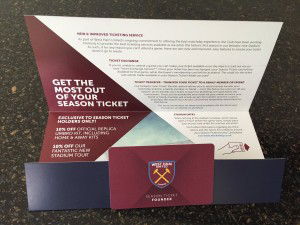 In March West Ham announced a London Stadium Priority relocation window as part of the Season ticket renewal process to allow supporters move seats for next season.
With the season ticket renewal deadline fast approaching on 31st May the relocation window will open on Thursday 1st June and will close on Thursday 15th June.
West Ham will give priority to those who renewed their season tickets first from the first day on 13th March in strict order as long as they choose the box 'Move seat' during season ticket renewal to indicate that they wanted to relocate their seat.
The ticket office will call or email each season ticket in strict order of the renewal date and time to offer a relocation subject to availability. It is hoped many of these relocations will happen over the phone but supporters also have the option of meeting face to face.
At the point of confirmation of relocation, if the seat falls into a different price band, the difference in cost will either be refunded or required to be paid in full immediately.
The club claims those requesting to relocate are a small percentage of 20,800 who have already renewed their seats for next season.
UPDATE: Since the article was written, I have been advised by the club that it is not necessary to select the MOVE seat option during the renewal process to have the opportunity to relocate and in fact, all season tickets will still have the option to relocate subject to availability of seats.