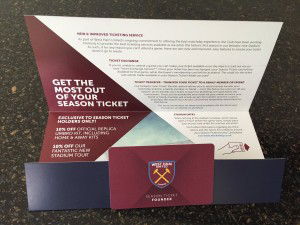 Season ticket renewals doing better than expected this season and the club is predicting an 87%/88% renewal rate when the 1st June deadline comes.
One of the reasons for the surprise is it is also the first year that around 7,000 Band 5 adults £289 adults) have been asked to renew. The supporters were required to sign up for 2 years in advance without seeing the actual stadium so this is the first time they are being asked to renew.
With an 88% renewal rate, it is estimated that over 6,000 supporters on 48,000 strong Season ticket waiting list will be given an opportunity in June to get a London Stadium eason ticket. Many that have been on the 10-pound list for two years were emailed over the weekend and asked to state their preferences for the band of London Stadium seat they want to purchase.
Current season ticket holders have until 5pm Friday 1st June to renew or risk losing their seat for next season.
Season ticket renewal site at http://seasontickets.whufc.com/
Any club cash you have earned from selling tickets on Ticket Exchange must be used by 31st May or you will lose your balance.