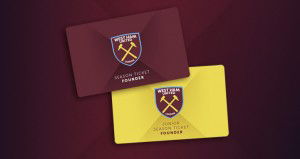 Season ticket holders have been waiting patiently for the season ticket access cards despite paying a 25% deposit as early May last year and the full balance in June this year.
On the 15th July Vice chairman Karren Brady tweeted out "Next week your access card and the welcome pack will arrive don't worry you'll get it in plenty of time for 1st game"
WHUFC.com then ran an article on Monday 18th July claiming "Welcome packs for the Club's 50,000 plus Season Ticket Holders are set to land from the week commencing Monday 25th July."
That date came and went with no cards or welcome packs arriving.
On 2nd August Brady update fans on social media by saying "They have been despatched in batches over the past few weeks, all 52,000 of them, they are now with the Post office"
This afternoon Karren Brady made yet another promise on twitter "I am reliably informed tomorrow and Thursday for definite …do let me know if you have or have not got yours"
We understand the delays were caused by an external company employed by the club to produce the cards and mail them out. They failed to meet previously agreed deadlines with the club.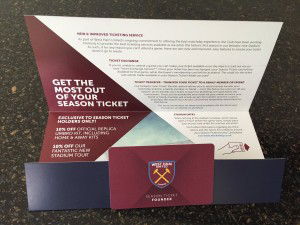 Do let us know if you receive your card and welcome pack in the post tomorrow.
A source at the ticket office confirmed "The cards left the mailing house on Monday and they told us the first ones would take two days to land, the last ones are leaving today and again should land Friday or Saturday according to what they informed us."
Update: Season tickets holders have reported that some season ticket access cards have indeed arrived this morning in the post (Wednesday). Season ticket holder, Gary Prince was one of the first to confirm and post a photo of his season ticket on twitter this morning but many others have since confirmed their arrival of season tickets too.