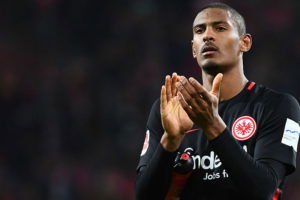 While Sebastien Haller has yet to put pen to paper and sign his West Ham contract , I will put my neck on the line this evening by suggesting he will sign within the next twenty fours and be announced as the record club signing tomorrow.
With 21 goals in all competitions plus 12 assists for Frankfurt, Haller is truly a marquee signing and a real coup for West Ham should that happen.
He will have cost the Hammers big with the first £40.5m due in instalments over the next 18 months and a possible further £4.5m in performance-related add-ons. He is expected to sign a 5-year contract on wages of around £70,000 per week which are said to be a significant improvement on his current package in Germany.
The 25-year-old travelled to London today with his agent Loic Gustan and late this afternoon passed a medical at Rush Green.
Agent Will Salthouse is said to be one of a number of intermediaries on West Ham's side of the table.
Tales of a late Champions League bid to spoil the party appear to be too little, too late and the player is expected to honour his agreement with the Hammers.
The Hammers are finalising the last details with Haller's agent this evening and I would be very surprised if Haller is not announced sometime tomorrow as a Hammer!