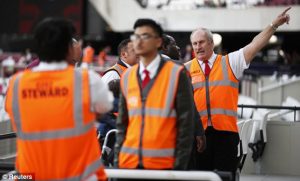 Fresh concerns over the London Stadium's security and stewarding has been raised after yesterday's Rugby game between the Saracens and Harlequins. A supporter in the hospitality suite raised the alarm to security personnel ten mins before the end of the match when he noticed a sizeable North Face bag unattended at the rear of the seats close to the Arnold Hills suite. The supporter who raised the alarm happened to be a safety steward for Walsall football club trained to deal with 'Code Black' situations at stadia.  A code black alert is where a suspect package or bomb is found in a stadium.
The rugby supporter called over security who hadn't noticed it. They asked other supporters close to the area to the bag if it was theirs which everyone said it wasn't. Then according to the eyewitness one of security personnel pretended to kick the bag when they should have been evacuating the area while a couple of security officers stood there thinking it was a joke.
Eventually, a more senior security officer turned and immediately opened the bag to check it, luckily, in the end, it was a false alarm but in this day and age more care for the supporters should have been applied by trained staff.  According to the supporter who contacted Claret and Hugh, proper protocols were not followed and that is a serious security concern for a such a high profile terrorist target such the London Stadium.
In recent days the London Mayor Sadiq Khan and LLDC chairman Peter Hendy have been quick to point the poor security and stewarding as being a West Ham problem but this recent tale shows there is far more to it.