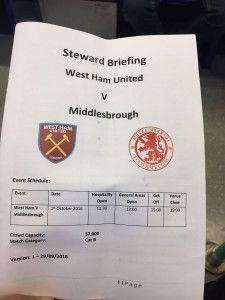 A confidential twenty four page Steward briefing booklet was found discarded in a bush near Pudding Mill Lane DLR station only to be found by ClaretandHugh associate editor last night on his way home from the game.
The document contained the mobile numbers of a wide number of senior individuals within operators Stadium London 185 and West Ham together with their radio call signs.These numbers included L185 CEO Linda Lennon and West Ham COO Ben Illingworth.
The match planning overview includes a Met Police intelligence briefing with concerns over Middlesborough fans who they say could drink heavily as well as highlighting that a number of high risk Boro supporters are likely to travel.
Stewards are told to pay particular attention to persistent standing at the back of West stand lower because it might block the views of VIP's!
An operations time table is fully listed minute by minute as well as a matrix on how and where stewards are deployed within the stadium. The booklet details advice on persistent standing, alcohol management and re-admittance to smokers who leave the stadium. The booklet also reveals the meaning of coded messages using red, black, blue and white colours as alerting steward and security staff of incidents.
In the wrong hands this booklet could well be a security concern especially to a potential terrorist. We will be contacting London Stadium 185 to inform them of the loss of this confidential document which was discarded for anyone to pick up.