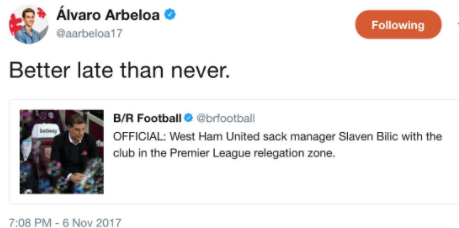 Remember Alvrdo Arbeola, the Spanish full back who proved one of the worst arrivals of Slaven Bilic's regime.
Well, tonight he has proved himself one of the most tasteless individuals around given his reception of the news that the former West Ham manager is now out of work.
Arbeloa was the out of contract defender who proved himself to be well past his best when he arrived at the club on deadline day ahead of the 2016-17 season.
He made a total of three starts for the Irons amid stories that he and the manager had been involved in a training ground bust up over training methods.
And tonight he appears to have confirmed that with an unnecessary tweet in response to the news that the 49 year old Croat has been sacked by "the club.
His entirely graceless response was "Better late than never!" which frankly is an entirely unprofessional attitude to bring into the public arena.
Not good enough!