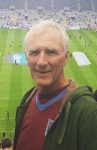 By CandH's top blogger Allen Cummings
It was the late, great and legendary Bill Shankly who, when all-conquering manager of Liverpool in the 60's and early 70's, was famously quoted as saying: "Some people think football is a matter of life and death. I can assure them it is much more serious than that."
Contrast that with the recent words of the present Liverpool manager Jurgen Klopp, who in a statement addressing the impact on football of the current coronavirus said: "I've said before that football always seems the most important of the least important things. Today, football and football matches really aren't important at all."
To be fair Shankly's words came at a time and in an era when passion in football was exceptionally high. Players felt pride in the clubs they played for, and a genuine responsibility to the supporters who idolised them. For their part the fans frequently believed their football clubs took precedent over almost everything else.
Fast forward to football today, and while pride continues to play some part, nowadays the game is sadly more about money than anything else. Money for the players, money for the clubs, money for the clubs to buy even more players – in an endless crusade to accumulate even more money. Football is now, first and foremost, business and big business at that.
No-one knows how the current coronavirus crisis will pan out for society as a whole, which has to be the overriding issue in all this. In reality football is almost an insignificance in the grand scheme of things.
As Klopp rightly says, do winners and losers really matter, so long as the vast majority – but sadly not all  of us – come out of this nightmare able to carry on with our normal lives once again.
I'm of the opinion this season should be null and void. A line should be drawn under it now. Not from a selfish point of view because then the club I support will retain the right to play Premier League football next season.
I simply believe that to hang on to the thought that somehow you can attempt to finish a race when the finishing line is nowhere in sight anyway – and seems to be disappearing ever further into the distance by the day – is a pointless exercise!
Terminating the season will clear the decks – end all the speculation and uncertainty  – and allow the clubs to have a clear focus on starting afresh with a brand new season. Promotion hopefuls will be gutted. Relegation threatened clubs relieved. But the alternative is ongoing chaos?
Klopp will be massively disappointed if his team – who we all know are champions in all but name anyway – are denied their final crowning. But his words are fair and honest – no matter how much they must hurt! I raise my hat to you Jurgen!