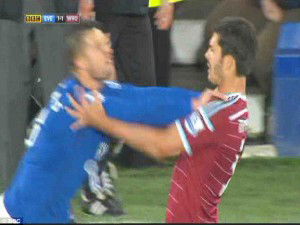 James Tomkins received a very strong dressing down for his play acting when collapsing to the ground after a handbags confrontation  on Saturday.
The central defender collapsed pretending he had been hit in the face when clearly nothing of the sort had taken place between the two players.
The game had become highly bad tempered after the midfielder's blatant dive when not being touched by Kevin Nolan.
But the match boiled over when McCarthy went over the top on Morgan Amalfitano and Tomkins behaviour was clearly linked to the atmosphere iniside Goodison as a result.
A club source told us exclusively: "James received some very sharp words. In reality he made a bad spontaneous decision and we are certain  he'll never do it again.
The team were frustrated at being kicked to bits by Everton – the McCarthy foul was an obvious sending off."