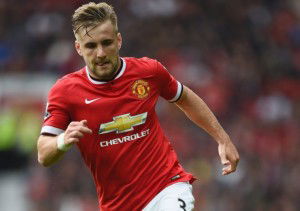 Just occasionally – and this is such a time – footballers say such utterly stupid things  it simply takes the breath away!
Step forward Luke Shaw!
Before we go any further let me say straight away that my first reaction when watching Kevin Nolan's disallowed goal yesterday was that it was offside.
Equally, I also thought that had Wayne Rooney acted towards Stewart Downing in the street as he had done on the pitch he could justifiably be facing charges of common assault or worse in court.
Shaw, meanwhile, is either ridiculously loyal to his mate Roo or doesn't actually understand the rules of the game for here is his assessment of why Nolan's strike should have been chalked off.
He said: "My heart sank [when Nolan's shot went in]. It was close. We haven't had much luck either with decisions.
"We have actually had a lot of bad luck, especially with Wazza's red card as I would say there was a handball before that but the referee didn't stop play."
Listen son, it's only a handball if the ref says so and taking someone down at the knees isn't acceptable in any circumstances.
Trying  to sugar coat such a horrendous 'attack' from his captain at club and perhaps eventually international level, may make him feel better but to everyone with a sense of balance and fair play it makes him mug of the week!
And all those fans who applauded Rooney (oh sorry) WAZZA (sigh) off the pitch, stand beside the one eyed geezer from Southampton.