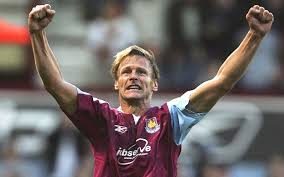 Excited Teddy Sheringham – who grabbed 28 goals in 76 West HamUnited appearances – is back on the Boleyn case!
Sam Allardyce's former Millwall team-mate has been officially unveiled as the Irons' new attacking coach claiming the job "fits very nicely" given he's a West Ham boy.
Speaking to the official site at www.whufc.com he said: "I'm very excited. Sam phoned me a week or so ago and asked me if I fancied it. It was far too good to resist really.
"Being a West Ham boy and coming from the area, it fits nicely in all that I'm about, what with working alongside Sam and knowing a few of the players as well.
"They've got a lot of respect for Sam, they speak very highly of him and to know that's the case made me want to get involved.
"I know the environment, I know everything about West Ham, so it was just too good an opportunity to turn down."