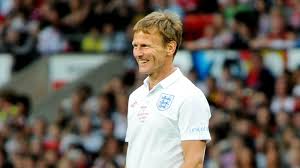 Am I the only person to be surprised that West Ham United have not been employing an attacking coach and that it has taken an end of season review to decide this may be a good idea?
After all, goalkeeping and defensive coaches are par for the course. I'd always assumed that most clubs would pay the same attention to the area of the team where matches are actually won.
And given that our manager Sam Allardyce is reputed to be one of the most scientific in the game it seems a tad odd that such an individual was not on board some time ago.
After all Sam is very much a stats and sports science man whose attention to detail in these areas is widely admired throughout the game apparently.
But an attacking coach who Sam admits himself "can help us score goals" …nope, not been on the agenda until now it seems.
Much has been made of this new role but as things stand should Teddy Sheringham – who claims he's been approached – actually take the post, what's he going to do?
Presumably he's not  going to be explaining to Andy Carroll how to run, jump, head and strike a ball so hopefully there will be  a change of approach which actually provides him with a job.
I find it all rather odd and once Sheri has used his years of experience to help whoever our offensive players are, will it make any difference?
Seems to me that for that to happen, there really does have to be a change in the way we attack teams – and at the end of it all, that remains very firmly in Mr Allardyce's hands.
So can anyone tell me,  have we seen a moment of real change or a little bit of window dressing?
I fear it may be the latter!