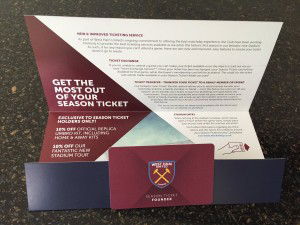 A Claret and Hugh poll of 685 West Ham season ticket holders claim nearly 26% of supporters do not plan to renew their London Stadium seats. If this percentage was carried through to all 52,000 season ticket holders then over 13,400 supporters do not plan to renew for next season.
Over 51% of supporters claim they do plan to renew their season tickets which account for around 26,600 fans.The remaining 23% are undecided with many wanting to wait to know West Ham's Premier League status before committing.
Last year around 10% did not renew their London Stadium season tickets meaning around 5,200 seats were allocated to the Hammers season ticket waiting list.  At a Supporters Advisory Board in February West Ham claimed that the waiting list now stands at 48,000 and that those at the top of the list where being contacted to check they were still interested in obtaining a season ticket.
Full Poll Results: Do you plan to renew your season ticket?  Yes 351 (51.24%) No 177 (25.84%) Undecided 157 (22.92%) Total votes=685