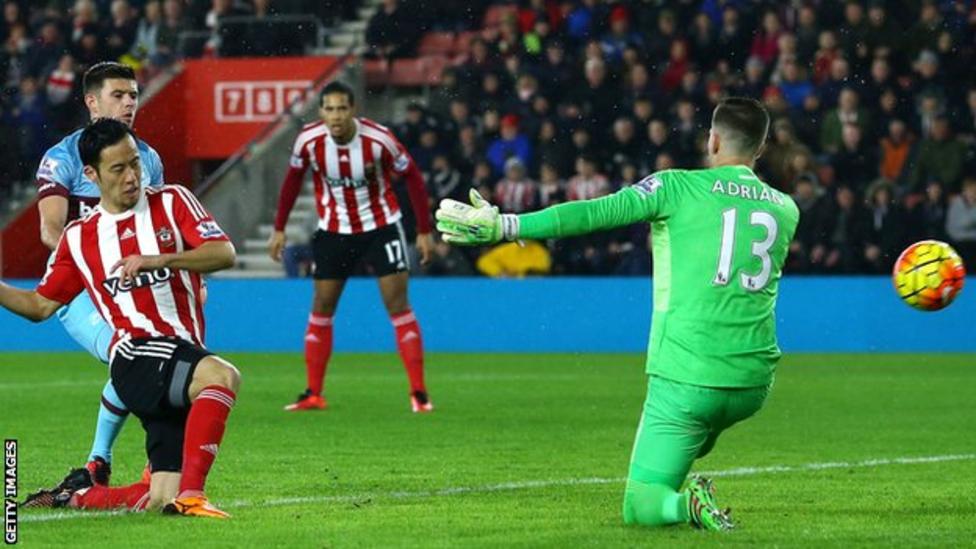 There's little point in beating around the bush…that was a poor performance with the team finally paying the price for a shoddy start which is becoming as much a feature of the season as the big away victories.
The first half – as it has been on many occasions this season – was a total non event for us which would perhaps be more acceptable had Saints been all that – the weren't.
And anyone who thought lightning might strike twice when Saints when down to 10 men as Villa had done on Tuesday after Wanyama's shocking foul on Payet wasn't watching the same game as me.
With Payet again failing to spark and Alex Song again showing much that's worst in his game,it was never going to happen.
The Hammers lacked pace and tempo and as a result a very solid Saints defence kept its fifth successive clean sheet as the Irons huffed and puffed making very little impact -disappointing doesn't get close.
Saints keeper Fraser Forster was called on to make just one save when he did well against a Reid header from a Payet cross and to be honest that was about it.
However, it was disappointing in the extreme to watch Song lose possession in a dangerous position and set up a Saints attack which could easily have brought a goal as early as the eighth minute.
A minute later some disorganised defending saw the home side go in front when Valencia – not fancying the tackle – produced a half challenge and Maya Yoshida leapt in to shot home from six yards.
We never looked like getting it back. The build up was pedestrian and laboured at times and for me, Valencia was lightweight, and Song ineffective as a creative force.
Even after Wanyama had justifiably been dismissed Saints kept a decent shape and we simply didn't have the subtlety to break them down.
So we leave the south coast still haven't not managed to get a single victory at the place – this was a seriously bad day at the office and Slav has to pick the team up big time for Tuesday night.
Picture show Yoshida scoring the only goal of a less than average game