Back in the middle of August when  the 'Sam out' movement was at its fiercest ClaretandHugh said it would reserve judgement on the issue until the end of September.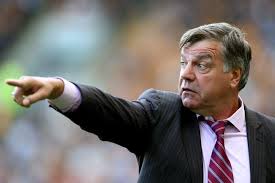 We have been true to our word and today deliver our verdict on whether the manager – some would say the most divisive in our history -should stay of go.
Were we to make a decision based purely on results – two Premier League wins, three defeats and a draw along with a Capital One Cup exit – the vote would be straightforward – a big thumbs down!
But the Hull City and Liverpool performances plus the spirited and often attractive display at Old Trafford, make the vote less obvious because West Ham United are playing real football for the first time in a very long time.
It's our view that an enormous amount of work has been put in  brokering deals for players and the board and Allardyce take equal credit.
Whether, Sam has achieved enough though to remain in charge is the issue at hand and we have to say the style and panache with which the team is playing is a joy to behold right now – surely nobody can have any complaints.
Things can change and thus we are all allowed to change our minds but our verdict for now is simple:
The manager should remain in charge but we must never go back to the bad old one up days or the view will rapidly change!
A NEW Claretandhugh POLL WILL APPEAR LATER TODAY FOR YOU TO HAVE YOUR SAY!