West Ham's academy just keeps on producing gems!
Just weeks after recovering from a hamstring injury that had kept him out for months, Xande Silva could receicve a a shock call-up to the Irons' senior squad for this weekend's London derby against Crystal Palace.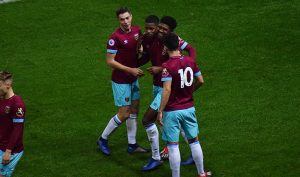 A senior source told us by text a few minutes ago that reports he is in tomorrow's squad for the game against Palace are correct where he will be joined by Grady Diangana.
Having kicked off his Irons career in the best way possible: with a hat-trick against Spurs the young Portuguese striker – signed in the summer for 1.8 million euros – now finds himself stepping up to the highest level.
He  has scored a total of five goals in five games in the Premier League 2 Division One but has just returned to full fitness after a lengthy lay off with a hamstring problem.
Finally we have a manager who understands that youth is key, that by producing your own young stars is the way to progress in this division.
All the best teams do it, from Sir Alex Ferguson's all-conquering Manchester United side of the late 1990s, to Barcelona under Pep Guardiola, to Manchester City now.
West Ham are catching up with the times, and are set to allow youth to thrive. Terry Westley and his staff need a big vote of thanks from us all.
Now, this is not to say that both Silva and Diangana will start from the first whistle and play the entire 90 minutes. Indeed, they may play just five minutes between them.
But they are in amongst the squad, not farmed out on loan, and the confidence they will receive from knowing the manager has real faith in them is priceless.
The future may well be here. It's about time.