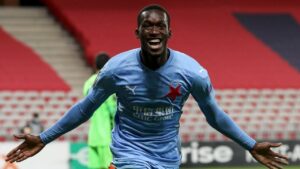 It's difficult to find words when seeing Tomas and Vladimir join the Isla campaign!
These two boys have become seriously loved Hammers heroes in such a short space of time and that they should supply signed shirts for  the campaign raising funds for her treatment is heartwarming.
Having said all that it seems to me that from a purely footballing point of view there could be  a story behind a story here.
For it's also reported that Czech ambassador Libor Secka reached out to his countrymen to help and has received signed shirts from the pair, along with a shirt belonging to Slavia Prague goalscorer Abdallah Sima.
Now let's not get carried away but the interesting point is why would any West Ham fan would want a top of Sima's if there wasn't a real chance that he may become a Hammer.
The reality is that if the teenager doesn't join the club then such an item will be worthless as far as they are concerned.
I may have misread this but I'd stray towards the  possibility that he is not only our No 1 striker target but a likely candidate to join us.
At the very least I can hope I'm right!