P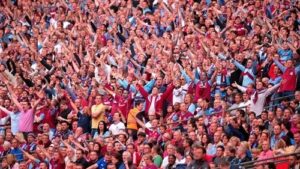 ublic Health England is likely to insist that supporters should avoid singing, chanting or shouting at football stadia when fans are allowed back. Restrictions are likely to continue until a vaccine is widely available for the virus.
The guidelines are likely to follow similar rules for places of worship which already say 'People should avoid singing, shouting, raising voices and/or playing music at a volume that makes normal conversation difficult or that may encourage shouting. This is because of the potential for increased risk of transmission from aerosol and droplets.'
Pubs opened last Saturday but they have been told to keep the volume down if they show any live football games.
The latest government guidance does not ban football explicitly – but it does ban broadcasts where the volume is too high so that people may be forced to shout (or cheer) over each other. That means football will be allowed at pubs but only at low volumes – possibly with the commentary switched off – and anyone reacting loudly to the game will be asked to keep it down. Buried in the new rules on opening the hospitality sector, the government says all venues "should ensure that steps are taken to avoid people needing to unduly raise their voices to each other. This includes, but is not limited to, refraining from playing music or broadcasts that may encourage shouting, including if played at a volume that makes normal conversation difficult."
The Premier League could return as early as September but it is yet unknown whether there will be restrictions on public gatherings or insistence that sports stadium reduce capacity to aid social distancing.