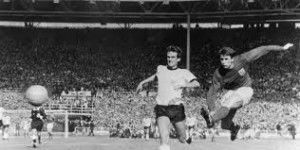 West Ham and England's immortal World Cup hero Geoff Hurst has demanded that Andy Carroll gets the call for Brazil this summer.
Hursty (seen right hammering home the fourth goal against West German in 1966) remains the only player in history to score a World Cup Final hat-trick as he Martin Peters and magnificent Mooro brought home the Jules Rimet trophy in '66.
And speaking to the official site he called on Roy Hodgson to make Andy a key player in this summer's  tournament.
He said: "There is every chance for Andy. I mentioned him recently while doing some media work not because he is a West Ham player, but because we talked about people who have the opportunity.
"If he scores in every game and West Ham continue to rise up the table and he keeps himself fit, he has the chance.
"Rickie Lambert is a good player and is playing well but if he gets injured, we may be looking for another front player who gives us the option of the high ball and Andy is a difficult player to mark.
"If Andy keeps plugging away, keeps himself fit and he keeps scoring the goals then, no question, he has a real chance of being there."
" Martin Peters  didn't play until May 1966 against Yugoslavia only two months before the final.
"He made a great goal in the quarter-final against Argentina and of course scored our second in the final which would have been the winner if West Germany hadn't equalised in the last minute."