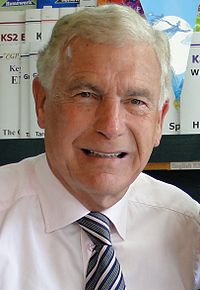 Declan Rice has received the highest of praise from almost everywhere this season but the latest contributor's will probably mean more than that of anyone else's.
For when Sir Trevor Brooking speaks and comments on an individual player it genuinely means something – there has been nobody more qualified to do so.
With an England selection  looming Sir Trev has given his opinion of where Declan is at the moment and suggested how he can improve his game.
However, he has fallen short of becoming his favourite player and it's no surprise that he names Manu Lanzini for that particular honour.
He of course plays in the role that the former boss and Hammers legend once filled with such tremendous authority and grace.
But he makes it clear that Declan can probably make him even more influential as they get to know each other's games better.
Manu has already made it clear that he loves playing with Declan and with this duo in the team our future is looking very bright indeed.
Sir Trevor declared as reported on 5 Live Sport: "Pellegrini likes to play with four at the back so Declan has come into that holding role.
If you have a holding role, you want somebody there that, particularly the way West Ham play when they've got everyone fit.
"Now Lanzini – my favourite player – came back at the weekend and was excellent, if you can knock balls into him, that's where the holding midfielder is the key," 
"If you're an attacking player and you want to get the ball in good positions to people such  Lanzini, you do need that holding midfield player to place it between people and give you a chance to get them on the half turn and get at the defence.
And that's what Declan is getting better and better at. That forward passing is something which is developing all the time and I think if he can keep doing that, I can't see anything, if he stays fit, stopping him progressing as he is."