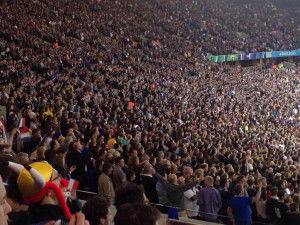 Sixty percent of West Ham's 52,000 season ticket holders plan to renew their season tickets at the London Stadium following the announcement of the renew process today with a renewal deadline of 31st May.
A snap social media poll of four hundred season ticket holders has revealed this afternoon that forty percent of season ticket holders which could account for 20,800 supporters do not plan to renew despite ticket prices being frozen.
The Hammers jumped from 26,000 season ticket holders from the Boleyn Ground to double to 52,000 at the London Stadium, and the big question is how many will stick with it for a second season.
The club claim they are 55,000 on the waiting list ready to take the places of those who do not renew, but with the promise of a price freeze limited to renewals only we may yet see the price of new season tickets rise at the London Stadium to those on the waiting list.
West Ham will also undergo an audit of the ten thousand junior season tickets and the over sixty fives. The club will ask for proof of eligibility for concessions, a process which was bizarrely not carried out before the first season at the London Stadium.