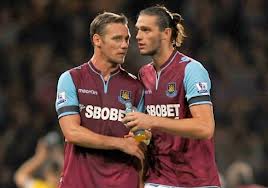 Kevin Nolan has fired a big warning to Manchester United ahead of tonight's game: "I want more goals."
And despite having turned his season around with five goals in February the skipper won't be happy until a few more victories are on the board.
Speaking to the  official site at www.whufc.com he said: "To be honest, looking back at this season at the end of it, I will be proud of my whole season, bar the blip in the middle of it.
"I have played in a lot of different positions this season and done a lot of things I'd never done before as a professional and I think I've grown in that way.
"I've made mistakes that I'd never made before in my career and I knew, once that happened, that I had to come back and be ready.
"I also wanted to make my family proud and believe in me because they stuck with me when things weren't going so well, whereas when everything is going well, everyone wants to be your mate.
"Since I've come back, I think my performances have been very good. It helps that we've got everyone back fit now because you don't have to shoulder so much responsibility. We have some top-notch professionals here.
"The return of the Big Man has also helped because, as everyone knows, when we play together we score goals. Our record speaks for itself as a pair.
"There are a lot of factors why my form has improved over the last seven weeks, but looking back over the whole season, I'm quite pleased with how it's gone, barring that little blip."