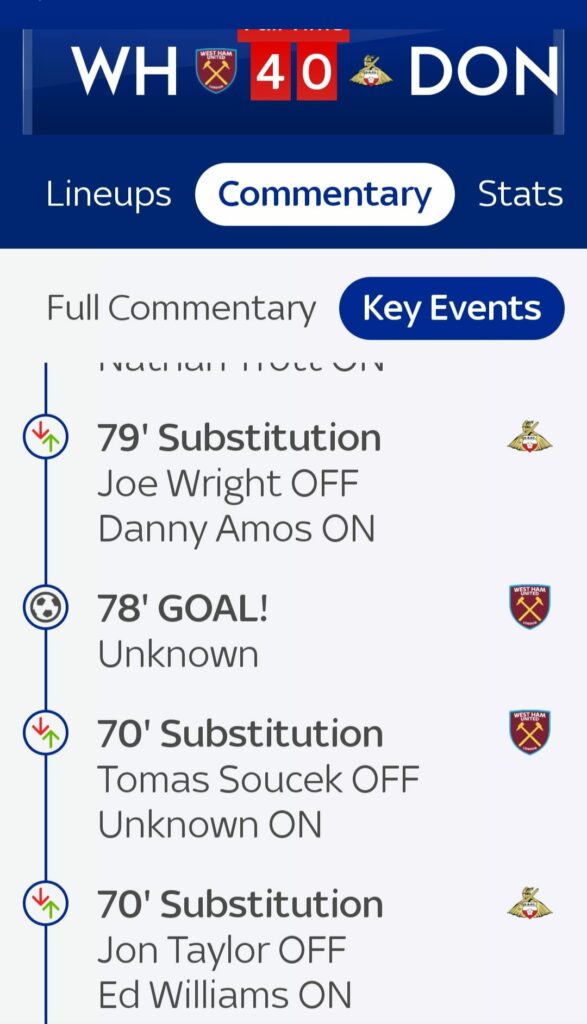 The media take a lot of knocking from fans, sometimes justifiably, and one of those occasion arose yesterday afternoon.
We are all entitled to opinions on stories but there's a big difference between that and getting something so blatantly wrong or simply not bothering to find out who is who and what's what.
Claret and Hugh blogger Allen Cummings spotted a real issue for us when discovering that Sky Sports had failed to know or find out the name of the new goal scoring kid on the Hammers block.
In the image above you will see how they referred to goal scorer Oladapo Afolayan who enjoyed a dream debut for the Irons first team against Doncaster Rovers.
Allen – like us – was pretty horrified that the boy's  arrival as sub and first goal should have been marked in such a way and wrote on the CandH facebook page: "Sky Sports didn't even know Afolayan's name. That's disgraceful! An insult to the lad imo!"
All reporters get team sheets delivered to them so how this could have happened is beyond any understanding and even if Sky had no reporter in the stadium the squad was published on the Hammers website.
Awful…quite awful!