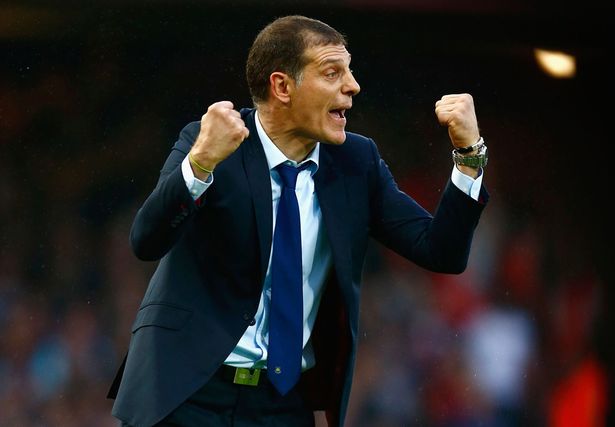 Slaven Bilic insists that he's dreaming and believing for that many believe is an impossibility – breaking into the top four.
As the Hammers soar and soar the Croatian boss refuses to accept that West Ham cannot maintain their incredible league position all season long.
He said: "You have a lot of surprises in every league, Celta Vigo in Spain at the moment, in Italy, Germany and England. But if you are talking about wonders, then the real wonder is if you are doing it for the whole season.
"It is very rare – but it is possible, of course. And we should all – all the clubs outside these top six as you call them – should hope or dream or even plan, in a positive way, about finishing in the top four because otherwise what is the point of playing?
Speaking to The Mirror he added: "In every country you have surprises in Cups – here you have three Championship clubs in last eight (of League Cup) but in a league it is very difficult, every year you have someone, you can call it a wonder or a surprise package or one club isolated because they are there for one part of the season but it can be done."
David Sullivan is even more bullish claiming that winning the Premier League is not impossible – even before the  move to the Olympic Stadium, which is likely to boost their long-term Champions League hopes.
He said: "We're very, very optimistic. I'm not talking it down I want to talk it up, I believe it's achievable.
"It's a big myth, I mean look at what's gone wrong with Chelsea – that looked an impossibility – so why shouldn't the opposite happen to us?
"In football, we're here to dream. At the start of the season we were in four competitions and the aim was to win those four.
"Now we're down to two – we've got the big double left – and it's very, very unlikely but not impossible.
"If you'd asked about the Champions League at the start of the season I would have said it's impossible this year – but it's not. Forget dreaming in the future.
"The unfortunate thing is that if you finish fourth you have to play a qualifying game – and no doubt we'd get a real toughie – like the fourth best team in Spain or Italy!
"Realistically, I'd love fourth place and we'd take our chances. I know it's unlikely, but it really is possible.
"One more win and we could be top of the table, looking down!
"I'm not sure how clever that would be as it'd really put pressure on people but it's not bad to be two points off the lead."
Bilic doesn't forsee a similar collapse to last season after a bright start addidng: "It has been a good start. There will be ups and downs results-wise, but I don't see why we should drop dramatically.
"We hope to continue like this, because we have good players, good team spirit, a good pattern. We're working hard, respecting the opponents and not fearing them."