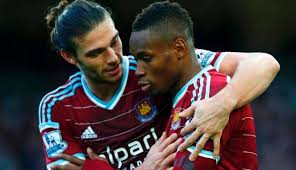 Slaven Bilic is as good a man manager as we've had at this club – he takes full responsibility for the bad times and makes sure he doesn't hog the headlines in the good.
His interview with Sky Sports at the weekend was an excellent study in the way the man operates …he's an engaging character who in general terms says the right thing at the right time.
So I have to say I was disappointed that he chose to single out Andy Carroll for special and favoured mention on Saturday morning ahead of the Sunday game at Goodison.
He spoke of how special he was – that he 'loved' Andy Carroll and couldn't wait for him to return to the team.
Now, before we go any further, this is not a "let's knock Carroll" piece – enough has been said and written about the bloke's abilities to last a lifetime.
But I do wonder when there is absolutely no sign of him being fit to play why Slav should have made such a big deal out of him.
And given that Diafra Sakho is on the same comeback road as AC I also wonder exactly what he made of all the "I love Andy " stuff.
Sakho was dropped, had a fall out on the training ground, failed a medical at West Brom and is now apparenty determined to prove himself all over again for the Irons.
A word on his behalf would have been wouldn't it because he may feel that there's not too much point if as far as the boss is concerened it's all about the Geordie when they are both fit.
Maybe something's been lost in translation but as it stands this feels like an uneven playing field. I hope to God I've got this wrong because for me Sak remains the best striker at the club.