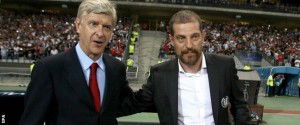 Slaven Bilic's admission that he would like to become the Sir Alex Ferguson of West Ham United is the sort of talk everyone around the club wants to hear.
In an interview with a Turkish media outlet Slaven made it clear that as his aim at the club was to do the sort of job for us achieved by the Scot.
David Gold for one admits that our new manager is certainly young enough to do a Fergie or an Arsene Wenger which in these days when managers do well to remain with a club three or four years is a big admission.
Delighted with the start Slaven has made, Gold told ClaretandHugh: "Obviously it's much too early to get into big predictions about how long any manager may stay but yes he's young enough to do that and it's a lovely thought.
"There's no reason why, if he continues as he has begun, why he shouldn't be around the club for a very long time to come. That would be the hope."
Gold has been as impressed with the manager's off the field approach to the job as the results he's achieved on it."
He said: "He has a very good attitude, determination, aggression and humility. It's a great mix and has left a good impression with everybody.
"I've heard it said that he has a similar manner to John Lyall. That's a very high compliment but he does come across very well indeed."