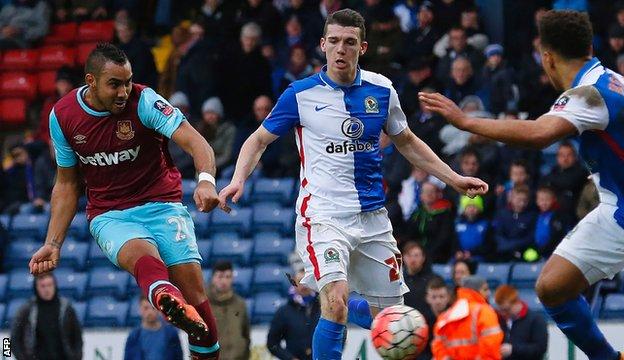 By Pete Ellis
Do not adjust your TV sets!
It's true!
West Ham have just thumped Blackburn rovers 5-1!!!!
Why is this such a headline? After all, it's only Rovers, who are down in 19th in the championship?
I'll tell you why.
It's because we have manager that gets the fact that a trophy would be amazing for the club.
He gets that with over 7000 of our finest in attendance, it would be an act of treason to field a weakened side.
It's because we have a manager that has nurtured a team spirit that means even going a goal down away from home, the guys on the pitch still have the self belief to put things right come the final whistle.
Gone are the days of a humiliating defeat at the hands of out of form lower league opposition on national TV.
For the first time in years, when that Rovers goal went in, I didn't feel, "Oh no, here we go again"!
Instead I thought "good luck Blackburn, you've just poked the bear!"
It's alien for me to feel this. I wouldn't say it's arrogance or misguided confidence, more a very noticeable lack or panic and despair that we have all had thrust upon us over many, many previous cup humiliations, whenever we have previously fallen behind in games like this.
Dare to dream? Well why not. For the first time in my 36 years, I have no trepidation or fear for the next round, only excitement and anticipation.
This time, they can worry about us !!!!
COYI