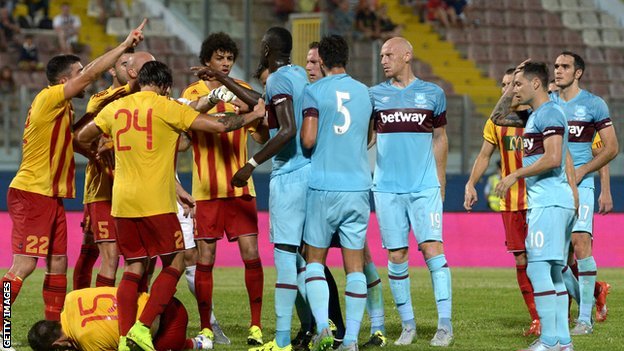 Slaven Bilic declared the Hammers players will need to improve their composure levels if they are to progress in Europe.
The manager spoke of "two stupid red cards" we have picked up in our opening two Europa Cup games adding: "We have to adjust, because we cannot react like that to provocation."
Diafra Sakho's sending off in the first round and James Tomkins last night drew the comment on Euro provocation: "It will  happen again, 100 per cent. Both of them were a little bit hard for me but we gave them a chance to give us to give red card."
Slav's entirely balanced post match opinion was simple as he said: "The most important thing is that we are through They started better, they pressed up front, they definitely knew they would get used to conditions in this heat they started better.
"We took the control of the game, but we didn't create chances, even though we we were around the box a lot and passing the ball.
"We lacked either the determination or quality to go into the box and create clear cut chances. We were the better team at end of the game, but we didn't create a lot and we didn't penetrate enough.
"When it came to the penalties, they are a lottery, but all five guys took them really, really good. I saw confidence in their eyes when I asked them who would take them.
He is reported on the official site as saying: "More than five wanted to take them, we were confident and it happened and we are through."
"We played 120 minutes, which for a pre-season is good. On this kind of pitch, I can only praise the character to play with a man down, chasing the result, in that kind of humidity.
"We showed character, determination and we didn't go into second half of extra time, 1-0 and a man down in the heat and give it up. We wanted to turn it around and the end we just about deserved it."