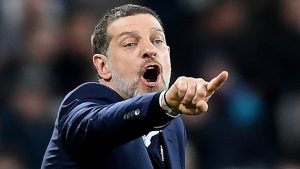 Slaven Bilic has got that winning feeling and is carrying it to Newcastle where he has a 100 per cent losing record as a player.
Having beaten Cheltenham he's determined to make it his first win in three visits where he lost as a player both for the Irons and Everton.
Ahead of the game he said: "It was very important we won at Cheltenham, I was pleased with how we approached the game, with our two goals and with the clean sheet.
Like I said, it doesn't matter who the opposition were. We experienced that feeling of winning and that can only be good. We hope to have the same feeling at Newcastle United on Saturday.
This will be our fourth away match in a row and I must say thank you to the supporters who have travelled all over the country already, and it is still August!
We have been north to Manchester, south to Southampton, west to Cheltenham and now we go north again to Newcastle, and our sections in the stands have always been full.
It may sound like a cliché or whatever, but the singing and the support do make a difference. They give the players that little extra motivation to go out there and do well.
Last time we went to Newcastle, two seasons ago, we did not produce a performance that our supporters deserved, especially in the first half.
At the time, we were doing really well and were fifth in the Premier League, while Newcastle were down in the relegation zone, but those positions didn't matter when we kicked-off.
"I played at St James' Park for West Ham and for Everton and I lost both times. I don't want that record to continue on Saturday and, if we can show the same commitment and quality we showed in the second half at Southampton and in our win at Cheltenham, I am confident it won't."