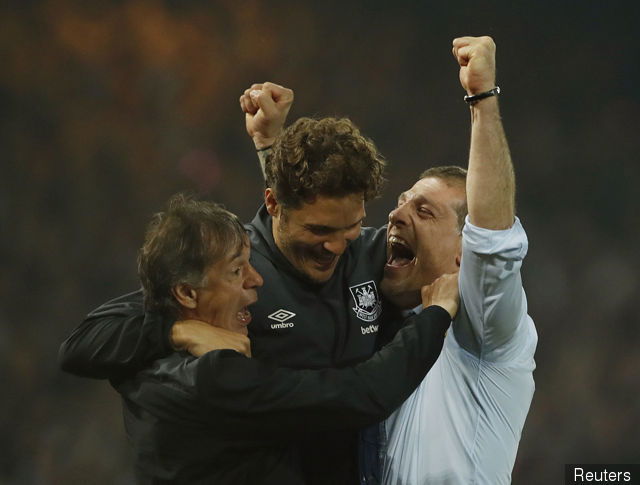 How good it was to see Slaven smiling and gagging around again yesterday afternoon.
How excellent to hear Mark Noble – who usually has the talent to say all the right things – explaining that the players were all 100 per cent behind the boss.
And whatever you may think of Harry Redknapp, the exchange between Slaven and the former manager on TV afterwards was really quite exceptional.
Harry has always worn his heart on his sleeve and the man whom he brought to the club who now has followed him into the manager's chair is clearly another who puts it all out there.
It was a real Hammers family moment when after hearing Harry congratulate him on how he had set the team up, Slav responded by saying: "Thanks boss (boss, after all these years!) I learned it off you!"
Okay, maye this all sounds a bit soft but you know what? I really don't care. We owe Harry for bringing us this guy who fell in love with the Hammers at first sight.
There have been many murmurings among some that maybe Slav couldn't turn things round. I must admit I started to have my own doubts but everything we wanted and more was on show yesterday.
It was a courageous managerial move to go to three at the back with Kouyate  – out of form so far this season – one of them. It worked perfectly and that's what Redknapp was referring to.
At last we can start looking forward with some confidence having seen the team transformed in a brilliant first 45 minutes and as gutsy as you will ever see them in the second.
What was that about Slav losing the dressing room? I don't think so. He looks like a man who is at West Ham for the long haul…thank God!