ITV/BBC sports reporter and director of Women in football, Jacqui Oakley has suggested Hammers fans should do the right thing by releasing Slaven Bilic in his role as Hammers manager to become the next England manager.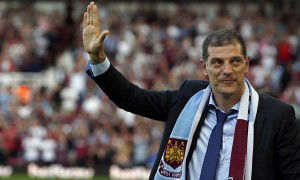 She tweeted from teb Euros in France "Come on, Hammers fans. Do the right thing. Let Slav go. Your country needs him"
West Ham fan and Talk Sport presenter Ian Abrahams  better known as the Moose replied "Errr Lady O please leave Slaven's name out it….he wont leave as we go into the OS"
Jacqui replied saying "Sorry Moose, but Slaven Bilic has the credentials: ability, int'l experience, man-management skills, knows Eng game/players, etc."
Moose replied "But he is West Ham manager"
Jacqui final words confirmed "BUT….I agree. Can't see him leaving West Ham as he's on to a good thing there…."
Sorry Jacqui! Hands off! Club before country. He has only just got started at West Ham. There is a lot more to come….