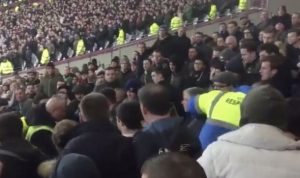 Slaven Bilic has made it clear he expects no trouble at the London Stadium on Monday evening as Chelsea arrive.
A total of 38 Hammers supporters were banned by the cluib after the EFL clash against the Blues – not the 97 widely reported.
But the manager said:  "It is not that I think [there will not be a repeat], it is definitely the truth. I have been spending a lot of time thinking about it. I have monthly meetings with Baroness Brady.
"We have talked a lot about that and I know how much effort, through her of course, has been put in to solving those problems.
"She or we have done it so I am not expecting (a repeat). Of course there could be individual things that may happen but the club has done a really great job regarding that. They have approached it since that game really seriously."
As reported previously here the club has a'five-point plan' with stewards will be given hand-held cameras to film troublemakers.
The segregation areas between rival fans will be widened and there will also be higher physical barriers between the home and away sections.
Exit routes after the game will also be blocked off to keep rival factions apart after fights which followed the League Cup tiee point plan in place.