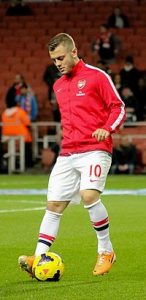 Slaven Bilic has admitted that Jack Wilshere is "a great player at a great age" but has refused to elaborate any further on speculaton that the Irons will make a summer move for the Arsenal midfielder.
The former England man was strongly linked to the Irons in speculation yesterday along with the possibility of Bournemouth attempting to make his loan move permanent.
But Bilic said: "You're always planning, even in August. If you didn't do what you hoped you'd do well after the transfer window, then you are planning for January or the next season.
"Eighty per cent of the time you are focused on the next game, or three or four games, and then what you need for next season," he told Sky Sports
"I've said that all the players that are looking for a move or the club is looking to sell them, it's rumours and they are linked with us. There's no point discussing it,"
"If you are talking about Jack Wilshere as a player that's different. Of course he is a great player with great ability but because of injures had a setback, had to go on loan to Bournemouth but he's a great player at a great age."