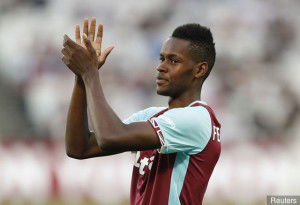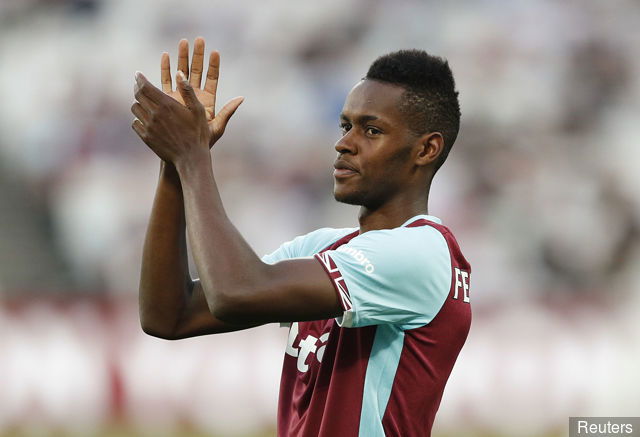 Slaven Bilic is entirely convinced the Irons are improving but admits he had to "calm them down at half time" as they looked for a miracle.
He said: "Other than Brighton, we improved a lot in the last six games. This should be the standard for us in terms of closing down, in terms of sacrificing for the team. Some games we may lose, but I am quite positive we are improving.
"The wins give you energy, give you freshness. Now tomorrow at the training ground, nobody is going to feel tired."
"For me, first half was very bad for us… Our crosses was [sic] very bad. Our movement in the box was not good enough.
"I told them to calm down, to do some things better when they were having the ball, especially [Manuel] Lanzini and [Edimilson] Fernandes (above right) and to start to be braver on the ball.
"And I told them that we are still in the game, and that goal is the decisive one. In the second half, we were closing down much better. Suddenly we score the goal, and gained energy, our crosses started to be world-class crosses to be fair, very hard for them to defend.
"From then, we scored, and we deserved it. It's a great night for the club.
"The running, the tempo, the closing down, I can feel we are in a rhythm, they are not in a rhythm.
"Then the second goal came [to make it 2-2] and you can still lose 4-2 [from that position], but it's you who are in charge."
Asked about Mauricio Pochettino stating that Tottenham let West Ham back into the game, Bilic said: "They don't concede three goals quite often. I don't remember the last time they did. They were a little bit 'job done'. Once they did that, it's very hard to get back in the game.
"Maybe that happened a bit, but from my point of view it's us that changed game not them. Still it's not easy to score three goals. We can do it, you know, as I said the goals affect us. We conceded two goals and didn't stop playing."