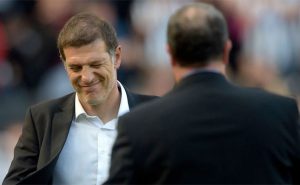 Matt Law says in the Telegraph today that Swansea is a must win game if Slaven wants to keep his job.
Law writes 'Slaven Bilic knows the script. After every defeat comes a must-win game, a game which he will be told he cannot afford to lose if he wants to continue as West Ham United manager. He has already got through one such encounter by beating Huddersfield Town, but just two weeks later Bilic is back in the same position after a London derby defeat to Tottenham Hotspur.
Bilic simply cannot afford anything but a victory against Swansea City in West Ham's final game before the international break to be sure of keeping his job. But he also knows that, even if he secures a valuable victory, it will only be a matter of time until he is faced with another do-or-die situation.
As Bilic admits himself, the genie is out of the bottle in terms of his job security and it is virtually impossible for him to permanently plug it back in. "Once that's opened, then it basically doesn't stop," said Bilic. "Game by game, or two games by two games, it's the way it is in modern football. Once you open that page…"
He did not need to complete his sentence. Everybody standing in front of Bilic knew exactly what he meant. The question is increasingly when the Croat will leave his post, rather than if he will, which is due in part to the fact he is only contracted to West Ham until the end of the season.
"I don't really think about that, I'm preparing for a game," said Bilic. "I don't think about that."