Here's the starting line– up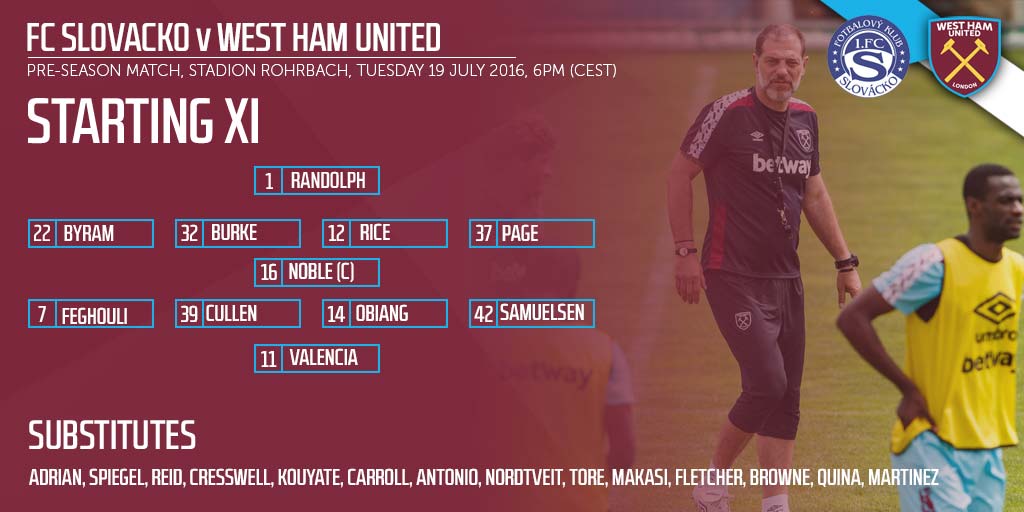 Kick off 5pm
3 mins: Little goalmuth action but Slovacko have most of possession at very slow pace
It's a very low key affair with only a few hundred in the ground and it really has the look of a training game
10/ Nice run and cross from Feghouli but Sauelsen's back post header over the top
15/ Feghouli showing nice touches when on ball but a very low key match
17/ Valencia thrown to the ground wide right – inviting cross eventully from Feghouli but strikers fail to reach and floats wide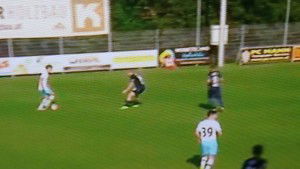 Pic shows Samuelsen on the ball advancing on Slovacko defence
27: Ball in from left for the opposition but header off target
It's all a bit of a keep fit affair but both Feghouli and Byram have looked fine down the right, Noble showing energy in the middle and Samuelsen keen to be involved.
35/ Hammers have enjoyed 60 per cent of possession so far but barely a shot on target
38/GOAL – HAMMERS TAKE LEAD:  NEAT WORK ON LEFT BY SAMEULSEN PICKS OUT NOBLE WHO FLASHES HOME A FINE FIRST TIME SHOT INTO FAR CORNER…NICE GOAL COYI
43: 25 yard free kick from Valencia well over the top.
Half time: Slovacko 0 Irons 1 (Noble 38)
Antonio, Kouyate, Ashley Fletcher and Tore on for Irons
Noble off along with  and Cullen – were missing a ciuple . Will catch up!!!
48/ Goal ruled out for the Czechs after scorer adjdged to have been guilty of shirt pulling
53: WOW: GOAL: Quina with cross and a really clever header from Ashley Fletcher appearing as second half sub and making his first appearance in Hammers shirt. Slovacko 0 Irons 2
63/ Exciting run from Qina, full of stepovers and flicks, crosses to Tore but first time lob into box cleared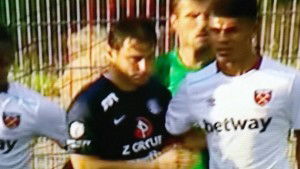 Picture show Fletcher preparing for a corner after his goal
It's all a bit humdrum out there now with Speigel taking over in goal as the Irons appear to be taking foot off the pedal
82′ Czechs tear forward – defence at six and sevens but timely bock and danger passes
85: Goal: It had been comig and Eldar Civic gets one back for the Czechs scoring from close range from a corner . Slovack0 1 Irons 2
88/ And they have the equaliser. Civic blasting home from an angled drive after great cross from right. Poor defending all round 2-2 
THAT'S IT – THE FINAL WHISTLE AND SPEIGEL BEATEN TWICE SINCE ARRIVING 20 MINUTES FROM TIME MEANS WE HAVE TO SETTLE FOR A 2-2 DRAW.