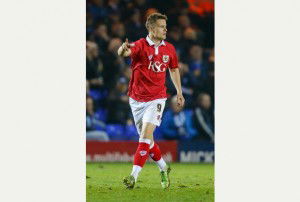 Giant Bristol City brainbox Matt Smith is on a mission to dump us out the FA Cup on Sunday.
The 6ft 6 in hitman has a degree in international business from Manchester University, and his ten goals in his last seven games demonstrate this is not a front man to take lightly.
He's used to helping provide shocks in the competition having helped knock out Liverpool when at Oldham before helping to force a replay against Everton in the next round.
He said: "Six months before I joined Oldham I was in London having interviews for jobs in business, management consultancies, that kind of thing. My football took off at the same time.
"I kind of see football as an extended gap year because I didn't have one before going to university but I had always dreamed of being a footballer.
We've no reason to be frightened of west Ham. We just have to make sure we are at it from the start."