Robert Snodgrass has been something of a hero this season and should we drop into the Championship he will be one player to whom no blame can be attached.
His wholehearted approach in every game has been brilliant and he has of course weighed in with five goals along the way and set pieces as dangerous as any you will see at this level of the game.
I'm a fan of anybody who battles the odds and comes out on top – a label which can certainly be attached to the Scotsman's broad shoulders.
Beyond his on the pitch offerings he has become a big figure in the community work carried out by the club and a firm favourite with all those he meets.
Right now he has one aim – helping to keep the club up and insists that the squad must simply go on believing and giving it everything as they did at Anfield.
Speaking at https://www.whufc.com/news/articles/2020/february/27-february/snodgrass-we-need-keep-working-hard-and-believe he said: "Performances like that are what we need to get out of trouble.
It's not rocket science, it's the basics of football. If you don't make mistakes, you give yourself a better chance to win the game. 
"We know ourselves, as footballers, that if we keep playing that way, we will get points on the board. 
"We've ran the European champions very close, and luck at certain times goes against us. It's hard to play against them when the game is flowing normally, let alone when deflections fall in their path or a mistake happens. It's difficult but it's football, and sometimes it's goes against you. 
"There's definitely belief there. You saw it at 2-1, there was only one team in it. We had some great chances and we should have put the game out of sight. But this is why they're a top side. You know if you don't take those chances, they'll come at you.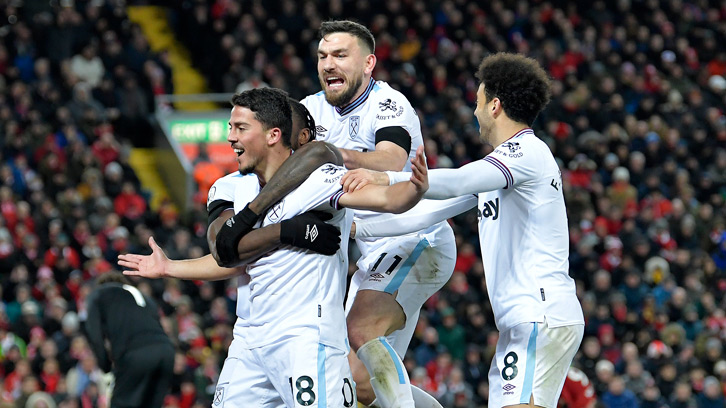 Pic via www.whufc.com
"Every game is big, "Snodgrass added. "Nobody probably would have given us a chance at Liverpool. I get that because of they are flying high, but anybody that came to that game would think West Ham were different class. 
"The manager is trying to get that consistency in our performance to give ourselves a better chance. Every game goes by and, if you don't take something from it then you're kicking yourselves. 
"Every game in the Premier League brings pressure. We put pressure on ourselves too. We just need to keep working hard for each other, keep believing."