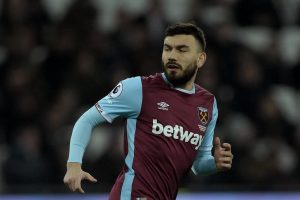 Robert Snodgrass admits that the Hammers fans really are something else!
It would be less than the truth to believe that he hasn't had to fight his way into their affections but it is a fact that hr is now seen as a key player in Manuel Pellegrini's team.
He has responded to every call made on him and his wholehearted all action front foot endeavour has seen the claret and blue army warming to him in a big way.
And the 31 year old Scot – who is also a regular on the disabled buses into the stadium on a Saturday – has become a real part of the Hammers family where he gives all for the cause.
But it's a two way affair and he has made it clear that he has developed a real rapport with the fans and is excited that before long there will be 60,000 of them inside the stadium.
Speaking to www.whufc.com he said: "The fans are amazing and I can't speak highly enough of them. They've been great for the team through good times and bad and that's the West Ham way.
"What they want to see, even if you're not winning games, is that you're working hard for the badge – I can't stress that enough.
"The hard working people who come here and pay a lot of money, the least they should get back is hard work, determination and the desire to play for the badge and the club.
"You're seeing that because there is a good connection between the players and the fans and then that's what happens – they'll support you."