BY Nick Hardinges
Our latest blogger is a tender 21 years old – short on Hammers glory but BIG on love for a club that's "been in his blood since Day One"
Here in his first article he tells how – as just a young man – he's getting used to that feeling of "fortune always hiding."
Nick's views are his own and do not necessarily reflect those of ClaretandHugh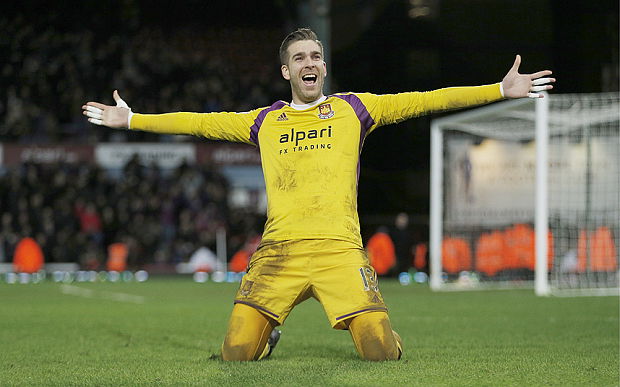 When writing a report on our beloved West Ham's current plight, it's difficult not to go over the same old ground. How many times have we heard calls for "BFS Out!!"? How many times have we despaired that the 'West Ham Way' is dying? How many times have we hoped that our youth would be given greater opportunities? They're more regular than an Adrian penalty save!
I, like many others on here it seems, cannot wait for this season to be over. It's petering out all too familiarly. I'm only 21 and already I'm all too well acquainted with the overwhelming sense of disappointment in a West Ham season. But in the past, that disappointment was something that made me proud to be a West Ham fan. I think that part of it defines who we are.
Perhaps surprisingly, I do remember the relegation of 2003. The abysmal 2011 is definitely still very fresh in the mind. However, despite these tragedies I have always held my head up high as a Hammer, even in the face of taunts from my glory supporting Man U friends and a fool of a Gooner (who needs enemies when you have friends like that hey?).
I've always been confident that the good times would shortly be round the corner. We had fighters in those squads who would give their all for the shirt (2003: Di Canio, Repka, Sinclair; 2011: Parker, Green, Cole [disagreement here is welcome, but in their own separate ways they were each a hero in the claret and blue at some point]). It pains me to say, but today I do not see those fighters.
There is always Mark Noble, and James Collins always puts everything on the line for the club, but rarely do these two change a game. As much as I love the fishing fanatic, Noble rarely makes that incisive pass that splits open a defence and Collins too often delivers a (sometimes spectacular, i.e. City away) gaffe which leads to trouble.
For a while, I thought Song, Downing and a few others might earn a heroic status for us this season. But like Kevin Nolan in every game this season, their fight has all but disappeared. I think we can hold our hands up and admit that we were in dreamland in December when we were hoping for Europe. In true West Ham fashion, the fortune has hidden once again.
Today, the disappointment feels different. I feel no pride in our current displays. And I firmly believe that the buck stops at the man at the helm. Players are prima donnas these days and they need inspiring. If Allardyce can't inspire us (sometimes fickle) fans who pay good money to watch, then how can he inspire players guaranteed to be earning up to £80,000 a week?
So where does this leave us? Well I'd like to finish on a few high notes. We have a manager who, as many of us hope and believe, is seemingly on his way out.
We have a proven PL goal scorer for next season in Sakho. We have a keeper who is number one in all but his shirt number.
There is a relatively youthful core in the side (Sakho, Valencia, Kouyate, Tomkins, Reid, Cresswell), plus we have promises of additions from the owners.
A new stadium is on the horizon, along with cheaper tickets (eventually). And finally, we are still a Premier League club – for what it's worth (a LOT of money actually).
Oh, and apparently we have David Cameron's backing. Well that is us damned then!!