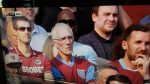 Furious CandH blogger Allan Cummings rips into the Brighton demonstrators and asks: "How is this behaviour helping the lads on the pitch."
The call from David Moyes for West Ham fans to "get behind the team and stick with the players" as they battle (with at least half the league last time I looked) to avoid the dreaded drop seems obvious enough.
A simple and clear observation of the situation as it stands you would have thought. In other words common sense. It's not rocket science to realise that with a noisy and supportive crowd behind them, the chances of a more positive response from the players has to be increased. Who do you know responds well to constant criticism? I don't know anyone.
Of course we're not happy with some of the performances we've seen this season. Both collectively and individually there have been some real nightmares. It's right that we should be able to express the way we feel. But in a right and proper way. It's our club after all.
We rejoice in it's success and we despair at it's failures. But at the end of the day surely we should be there to give the club our support, through thick and thin. Good times and bad times. It's what supporters are meant to do. Isn't that the West Ham way? The famous east end tradition of which we're so often reminded. The fighting spirit. Backs against the wall mentality. The tradition that we got behind our team whatever.
I was at the Brighton game on Saturday, as I am for most away games. I was there to get behind the team in the search for three  vital points. But before even a ball was kicked the tone for the afternoon had been set by the 'real' West Ham fans. The ones demanding their club back. A constant repertoire of anti board songs, punctuated by vile and personal attacks on individual board members.
The game itself was already secondary to their pre-conceived agenda. I'm no board lap dog. I believe they've made a pigs ear of plenty of issues.  I'm no prude either but Saturday I was not only disgusted, I was thoroughly embarrassed and ashamed. How was this supposed to benefit the team?
How were they meant to respond positively with that shameful chorus ringing in their ears? To be honest, I don't believe the perpetrators really care. How can they when all they appear to be promoting is negativity.
They had their agenda, as they have had for virtually the entire season, and nothing was going to sway them from that. The irony is they claim the board are ripping the club apart. The truth is they are doing a very good job of exactly that themselves.
The board are going nowhere. Not any time soon anyway.  Sadly these people just can't or wont see that. And by the time they wake up to that reality, if at all, and that's debatable, the situation could be a whole lot worse.