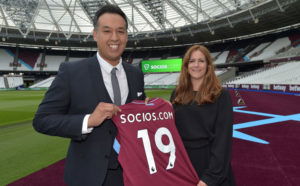 Socios announced more details about how the West Ham fan token will work yesterday setting the price at £1 per token outside the thousands they will give away for free.
There has been a lot of misinformation and inaccuracies spread about Socios so I have spent the last week speaking to people in the know including Socios and the club, to understand what it is, how it will work and separating fact from fiction.
Over 50,000 season ticket holders, 3,600 Club London members and up to 30,000 Claret members will each receive a free voucher to claim a free £1 West Ham Token.
When claimed that token will allow you to take part in an unlimited number of votes, polls and competitions for life on the Socios app or as long as the partnership continues. Non-season ticket holders and members can buy a token for a £1 to get the same rights for the life of the partnership.
Supporters can buy extra tokens up to a maximum of 50 so the maximum outlay is £50.
Although those extra tokens would give you extra voting rights in theory when you look at the things you will be able to vote on you have to ask why people would bother.  Which match Socios should sponsor,  the man of the match for that game, which player should appear on the football programme for that match and moment of the month are not quite the important club decisions some would make you believe will be on the platform.
Extra tokens will also be given away in a treasure hunt in an augmented version of the app similar to Pokemon Go; that won't be for me but as I am in my early fifties I am not sure the market they are aiming for.
There is no denying this partnership is a continuation of monetisation of Premier League supporters but is it any different to the price of tickets, food/drink, merchandising and other West Ham sponsored products.
West Ham and Socios insist the voting and polls will be for fun and no important club decisions will be made on this platform including Hammer of the year. I will take them on their word for now but it's sensible to be cautious that it doesn't start as one thing and end up as another.
I have seen some social users describe the scheme as a repeat of the bond scheme in the nineties which seems slightly overdramatic, at the end of the day supporters can vote with their feet by not buying any extra tokens if they don't agree with the idea.
Whatever your view on Socios and fan tokens in general one thing is for sure, Claret and Hugh polls will continue to be free and we won't ask you to buy any tokens to take part 😉