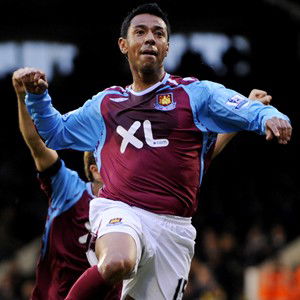 Norberto Solano has admitted  that he left  Newcastle United for West Ham after getting a "big message " from Sam Allardyce back in in 2007.
He told the Newcastle Chronicle ahead of this weekend's game between the two sides: " The style of play is basically the full-backs knocking the ball long up the pitch and often bypassing the midfield.
"Some of the midfielders end up being overlooked and I knew that because I didn't have a long throw-in as part of my game I might not have fitted into Sam's plan at Newcastle."
As a result 'Nobby' sought a meeting with the manager asking him if he would fit into his plans.
He was told Sam would be bringing in his own players in and that "he could not guarantee anything so I moved on to West Ham."
Solano added: "It was a big message for me. I knew that he would play the ball long and that the midfielders would spend a lot of time battling for the second ball.
However, trhe former player has noticed the change of style at the Boleyn this season and said: "It isn't like the old days for Sam at Bolton or Newcastle.
They have players like Alex Song, Stewart Downing and Diafro Sakho who have plenty of technical ability. Andy Carroll coming back to full fitness changes that a little bit.
You do wonder if they will be tempted to go back to playing more long balls into the box for Andy but we'll wait and see. He has improved as a player since he came into the first team at Newcastle.
Back then he struggled a bit with his first touch but in terms of aerial ability he has always been a monster of a striker.
He is a massive threat and Paul Dummett and Mike Williamson know they will have their work cut out at Upton Park."