Clearly irritated Jose Mourinho – who appears to have become a Hammers supporter in our picture –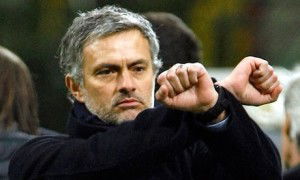 has just delivered a press conference which may have been among the most sombre and threatening ever seen from the Chelsea boss.
And his unhappy state of mind may be great news for the Irons tomorrow as we bid to take three points from his twelfth placed side.
He was interrupted by a club official at one point to explain that stories being run in the media to tell them that they were being closely monitored by legal representatives.
And Mourinho then decided to tell the assembled pressmen that h would not be supplying "funny headlines" and the like as he is not getting respect from newspapers.
He said: "We are going to a different level of relationships."
An unhappy and preoccupied Mourinho is precisely what the Irons need as he comes in search of a result against an in form Hammers team.
Commenting on our home record he said: "Look to the table at where they are and where we are – it's really easy t understand ."
And on Slaven Bilic he said: "He has managed Croatia, Beskitas and now West Ham. I dont know him very well but he gives the impression of being a man I could like."