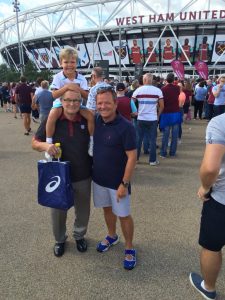 The son of a father who had a heart attack outside the Wembley away turnstiles is seeking the Hammers fan who saved his dad's life by performing CPR.   West Ham fan Wayne Perry said on Twitter "My old man had heart attack going into Spurs tonight. Hammers fan gave CPR and helped save his life. Want to find him please"
Wayne praised the medics who helped his dad Ian describing them as brilliant but said he had a long conversation with the stadium police today about the way it was handled and adding it was shocking in many ways and very heavy-handed.
Wayne said it had been a long 24 hours but revealed on social media that his dad is doing really well but he wouldn't make the Palace game though! He also thanked Hammers fans on behalf of his family for all the messages of goodwill.
The Met police Football unit said  "The West Ham fan who collapsed outside the away turnstiles last night received CPR and is currently recovering in hospital"
Do you know the West Ham fan who performed CPR on Wednesday night?
Please share Wayne's message on social message platforms to find the hero.