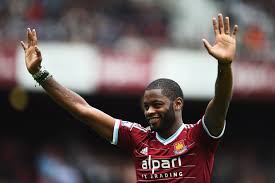 Mischief-making reports that Chelsea are keen to get involved in moves for Alex Song are wide of the mark.
With genuine news thin on the ground right now – yes we admit it – some media outlets have been creating a story out of very little suggesting the Hammers are no longer interested in the midfielder. Not true!
Talks with Barcelona will start within four weeks assuming Song decides he would be open to an Upton Park move and should a fee be found suitable then personal terms will be discussed with the player.
Should Jose Mourinho show any interest at any time – as is being suggested by the Spanish tabloid Sport but to which currently there is no substance – the 27 year old would be very much a squad player.
The Hammers would be ready to make him top man and possibly offer him the captain's armband as they head for the Olympic Stadium in 2017.
We have reported previously that it is of course all down to fees and personal terms with a source telling Claretandhugh: "He's a top player and we would be keen to talk to Barca soon and later Alex if the numbers add up."